Poe Park Visitor Center Online Gallery: Celebrating Hispanic Heritage Month
Join NYC Parks and Poe Park Visitor Center in celebrating Hispanic Heritage Month with a look at artworks by emerging and established artists from New York City whose works are inspired by the rich culture, history, and pride of ancestry.
About Poe Park Visitor Center
Poe Park Visitor Center is a community hub at Poe Park in the Bronx that offers art, literature, fitness, and community events. Due to the pandemic, the center is closed until further notice and the gallery has temporarily moved online.
Natalie N. Caro
Flashback
Who or what are insurgents in a society?
12 x 12, paper collage/cut-up
Works cited: Young lords party magazine, 2016
Click a thumbnail to view a larger image.
Artist Statement: Artist Natalie N. Caro uses found materials and juxtaposes contemporary art, canonical works, historical documents, and scientific inquiry against one another in hopes of questioning old mythologies. Inspiring a deeper discussion of history and its collection in real time, these works seek to be conversation starters.
Elsie Deliz
"La Poeta" Julia de Burgos
18 x 24, mixed media and watercolor, 2020
Click a thumbnail to view a larger image.
About Artist Elsie Deliz
Elsie's artwork is inspired by Puerto Rico's natural beauty and its people. She is a mixed media artist and printmaker who draws her artistic influences from nature and the environment. Through the use of mixed media techniques, Elsie experiments, and creates a variety of freeform art pieces. Her work has been exhibited in several gallers in New York and at the Museo de Historia de Ponce in Puerto Rico. Elsie's work is currently on display at the Taller Boricua Gallery in New York.
Monica Flores
Artist Statement: Before the outbreak of COVID-19, I had the honor of traveling with my grandparents to their hometown "Tulcingo de Valle" which is located in Puebla, Mexico. Three of these images were made within the last six months of COVID-19, a period in history that has affected all aspects of society across the globe. My work is an ode to family, ancestry, and the importance of grounding one's self during the trials and tribulations of life.
Artesanias de Puebla, Mexico
8 x 7, hand-coated Cyanotype on watercolor paper, 2020
Click a thumbnail to view a larger image.
Maria Teresa Giancoli
Mary Teresa Giancoli's prints from the series "Bailes en Tulum" depicts night performances of folkloric, regional dances in the coastal town of Tulum, where the Mayan site and ruins meet the beach vibe, and extend to the blue green waters of the Sian Ka'an Biosphere Reserve. Giancoli's Mexican portfolios are an extension of her decade long investigation of the Mexican community in New York.
Son Samba Dance, Tulum
8 x 10, color archival print, 2015
I took this image at a folkloric festival in Tulum, Mexico, featuring a dance with elements of Cuban Son. At night, I use a soft focus that blurs the dancers' movement.
Click a thumbnail to view a larger image.
About Artist Maria Teresa Giancoli
Mary Teresa Giancoli's videos and photographs have been exhibited at Plaxall Gallery, Local Project, Jeffrey Leder Gallery and La Guardia Community College, all in LIC, and AIR Gallery, Brooklyn, NY, and Jamaica Center for Arts and Learning. As a Swing Space Artist in Residence with the Lower Manhattan Cultural Council, she edited Cuetzalan, a portfolio exploring dance and rituals among women's communities in the Puebla region of Mexico. Cuetzalan was funded through USA Projects, and exhibited as a solo show at Mama Art Café, San Francisco.
Rick Kearns, Coyotes of the Bronx
Artist statement: The poem Coyotes of the Bronx grew out of two memories. The first involves a story told to me by my friend Arturo. He had lived in the Bronx up until the late '60s or early '70s, and he didn't come back until 1985. Upon his return, Arturo was shocked and depressed to see that his old neighborhood was gone, and he said, "Now you see it, now you don't." Just as he was saying those words, I remembered my encounters with coyotes about seven years earlier. I had been living in Tucson, Arizona. And I know I had said the same thing about the coyotes, how they seemed to appear and disappear in an instant. Fast forward 35 years and I began hearing stories of coyotes in New York. I did a bit of research and found that they had first appeared in the Bronx before migrating to the big island. I also read that many of these new residents were wolf/coyote hybrids, which in turn made me think of the wolves who used to live in this region when the Lenape were still here. I muse that the new coyotes are descendants of those wolves. Now you see them. Maybe it's our turn to disappear.
About Artist Rick Kearns
Rick Kearns is a poet, freelance writer, and musician of Boricua (Puerto Rican) and European heritage from Harrisburg, Pa. He was named Poet Laureate of Harrisburg in January 2014. His poems have appeared in over 80 journals including The Massachusetts Review, The Painted Bride Quarterly, The Patterson Review, Yellow Medicine Review, Letras (lit review of the Center for Puerto Rican Studies, Hunter College, NY), and Chicago Review. Kearns' poems are also in two books, five national anthologies, two international anthologies, and seven chapbooks. Several of his poems have been translated into Spanish and Portuguese. He has given readings throughout the United States since 1992, including at the Nuyorican Poet's Café in Manhattan and Capicu in Brooklyn. His poetry is also featured in "The Moon Rides a Black Horse" CD, combining his poetry and jazz performed by the Con Alma Quartet (with whom he collaborated between 2010-2014).
Gladys LaFrossia, Coqui Taino
5 x 7, woodprint, 2013
She is inspired by her culture and symbols, especially Taino symbols of Puerto Rico. She expresses her thoughts and sentiments to draw the viewer into a dialogue about passion and life.
About Artist Gladys LaFrossia
Gladys Rosas-LaFrossia, the daughter of Puerto Rican and Colombian parents, has always been passionate about art. She was born, raised, and still resides in the Bronx, NY. Trained in the Fine Arts, she has recently focused on printmaking and crafting. Through the use of simplified, but bold lines, Gladys produces images full of emotion and meaningfulness. Gladys is currently a high school studio art teacher. Her artwork has been previously exhibited in several galleries across New York City, including Galleria del Barrio, Focal Point Gallery, El Fogon Center of the Arts, Bruckner Art Gallery, and Leman College galleries.
Michael Mendel, El Ritmo De La Habana 1939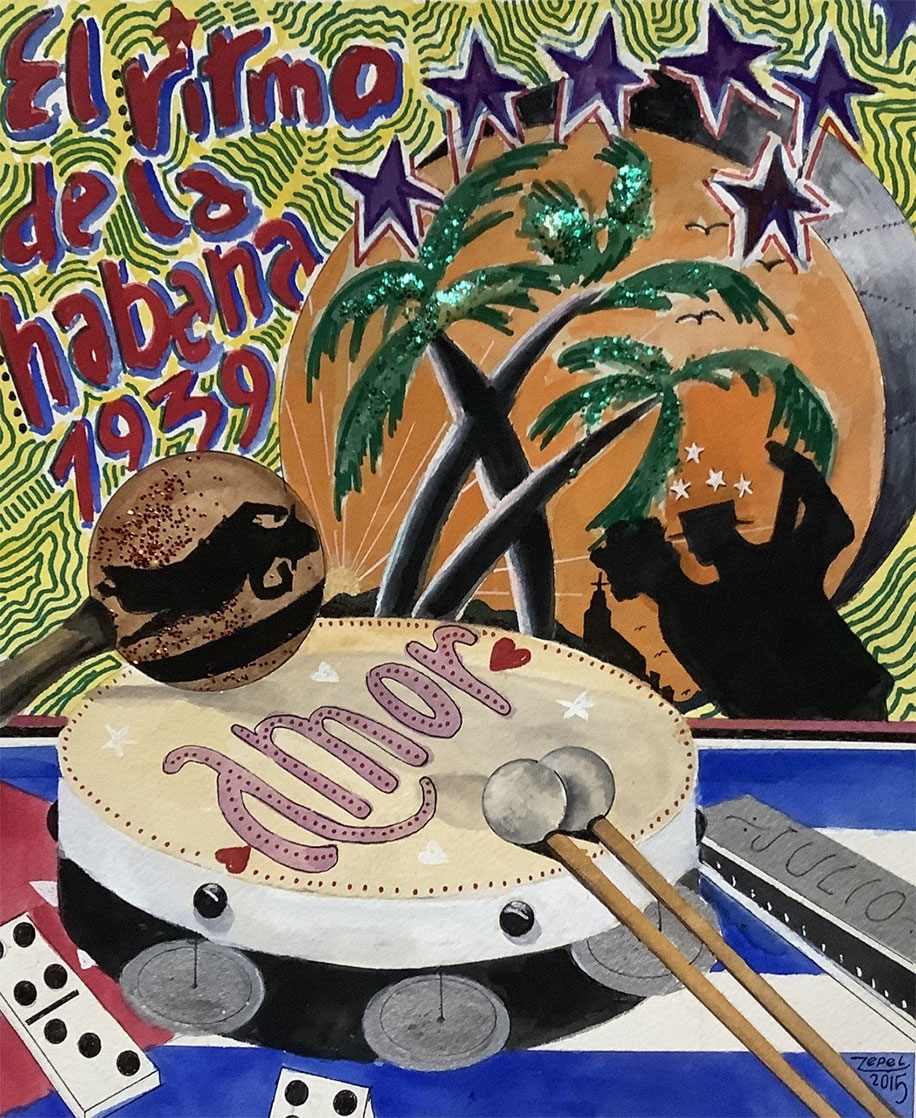 Artist Statement: I was a resident of Havana, Cuba in the 1930s. I was but a four-year-old child when my parents and I first landed in Havana. Escaping from Nazi Germany, our initial goal was to go to America, but our voyage was cut short when the United States placed a quota on the number of immigrants allowed in. As a young lad, I learned the Spanish language with ease and served as an interpreter for my parents. As time passed, I was woven into Cuban life and was drawn to its culture. Now as a fine artist and at the age of 86 reflecting on experiences and remembrances of Cuban life, I created a watercolor painting that was designed to become a major poster, containing elements reflecting life on the island in the late 1930s.
Michelle Pappas, Frida
Artist Statement: After first seeing Frida Kahlo's piece, The Broken Column, and learning about her life I've been captivated by her work. Despite her pain and physical suffering, she became an icon for many through her art. I created this piece as a appreciative portrait, as well as an to attempt to capture her love for her heritage. From her 143 paintings, 55 of them were brutally honest self portraits that express her response to the misfortunes she faced in her life. Her work wasn't fully appreciated in her lifetime but she has still become a role model to her culture, feminists, people with disablilities, and to the bisexual community.
Vincent Salas
Inside Shaman's Head
15 x 10, acrylic and collage
The Shaman is a healer, inspired by my Puerto Rican Heritage. I see the Shaman as my own sense of spirituality. Without prayer or my connection to my ancestors, the confusion, chaos, and anxieties in my mind might take over. This is a kind of self-portrait of myself and my inner Shaman, to heal and to empower me to trust in my higher powers.
Click a thumbnail to view a larger image.
About Artist Vincent Salas
A self-taught Puerto Rican artist, social, political, and spiritual issues are of great importance to his work. In 1975, he emerged on canvas with my graffiti name — DO IT — and became a member of the Nation of Graffiti Artists (N.O.G.A.) combined in spray paint with collage and construction. His work continued in many forms, including found objects, mixed media, construction, collage, acrylic, watercolors, and mixed media installations. He curated many alternative gallery spaces for 15 years, including the Food Stamp Gallery – two large windows in a Cashier Store in East Harlem, where he showed works by a variety of artists and community groups dealing with issues such as homelessness, drug addiction, gentrification, AIDS, and police brutality, to name a few. He also curated Galleria Boricua – 12 showcase windows in the lobby of Boricua College in Williamsburg, Brooklyn.
Hispanic Culture Arts presents Sevillanas Siglo xviii
As part of the concert "Music and Dance in the times of the Duchess of Alba", mezzo Anna Tonna, dancer Anna de la Paz, and guitarist Rupert Boyd perform an arrangement of Sevillanas Siglo xvii for escuela bolera dance at the Hispanic Society of America Museum & Library in New York City, in front of the celebrated portrait of The Duchess of Alba by Francisco Goya.
About the Hispanic Culture Arts
The Hispanic Culture Arts exposes students to a variety of cultural expressions in the classical Hispanic arts, facilitates the discovery of the arts as a vehicle for creativity and personal expression, and makes connections between classical Hispanic arts and modern life in New York City.
Gregorio A. Velez
Bonanza
31 x 51, oil on plywood, 2018
Click a thumbnail to view a larger image.
About Artist Gregorio A. Velez
Gregorio A. Velez is a visual and performing artist who derives inspiration to create from the Cubism style of painting.
"I find in it a rebellious freedom that creates harmony from chaos. The interlocking of the pieces and the gradient in shading allow for aesthetically-pleasing and well-balanced works. Focusing on the subjective interpretation of abstract visual works, I like to tell a story with a past, present, and future that touches the intimate psyche of what being human is about. Overcoming obstacles and barriers to enlightment and spiritual growth, and the juxtaposition and amalgamation of spiritual concepts are the central themes of many of my creations." - Gregorio Velez